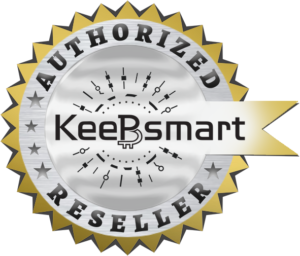 With the CRYPTOTAG you store these recovery words on 6mm thick bulletproof titanium. The Zeus Starter Kit has a storage capacity of 24 recovery words.
Autorized reseller

14 day right of return

1-2 days delivery

Customer service
Free shipping for orders over 1000 kr
Protect your recovery seed with this virtually indestructible 6mm thick titanium backup system. With the new number punch system you can easily record up to 24 BIP39 recovery words that back up your cryptocurrency hardware wallet in five minutes, and hodl in peace forever
The Zeus has been tested at temperatures up to 1667 degrees Celsius, put under a pneumatic hammer, and shot with a 9mm round. No matter what happens to your hardware wallet, your recovery seed is safe and sound thanks to Cryptotag. This is for the hodlers.
What is Cryptotag Zeus?
Cryptotag Zeus is the latest titanium backup solution from Cryptotag, designed to protect your recovery seed from damage. Easily record up to 24 BIP39-compatible recovery seed words and protect the backup of your hardware wallet private keys. The 6mm thick bulletproof, waterproof titanium Zeus is resistant to temperatures of up to 3050 °F (1667 °C) and all kinds of high pressure testing such as pneumatic hammers.
Why do I need a Cryptotag?
Your recovery seed is the only way to recover your crypto if anything happens to your hardware wallet. Instead of storing your recovery seed on a fragile piece of paper that could easily be destroyed or lost, you can store it in a virtually indestructible Cryptotag Zeus. No matter what happens to your cryptocurrency wallet, the Zeus ensures that you can always recover your crypto by protecting your recovery seed.
How does the Cryptotag work?
The Zeus is compatible with the BIP39 recovery seed word list. Write down your recovery seed on the included conversion sheet, and then look for each word in the numbered BIP39 word list online or use the included list in the setup guide. Write down the corresponding number next to each word on the conversion sheet. You should have a list of four-digit numbers when you finish. Use the included center punch to permanently engrave each number into the titanium plates that make up the Zeus. In a matter of minutes, you have the last backup solution you will ever need.
Technical Specification
Size: 11.3 x 6.8 cm
Weight: 210 grams
Compatibility: BIP39 recovery seeds
Material: Titanium
Includes 2 titanium plates